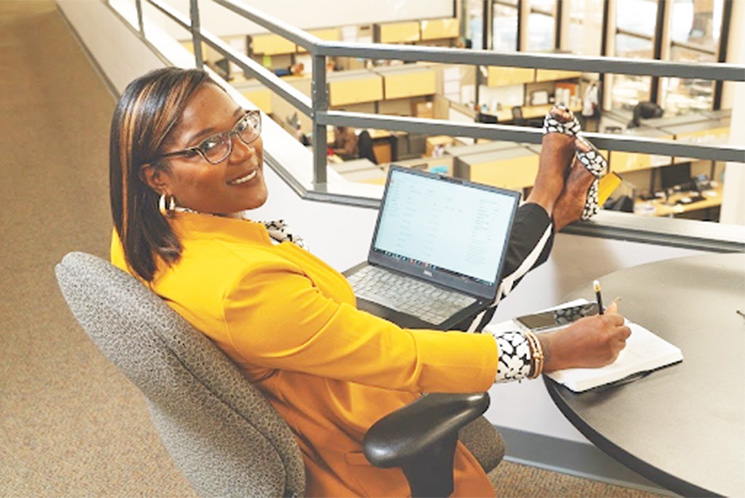 "Supply chain management is relevant to just about every company. For me, the MS SCM Online has allowed me to connect the dots. Before joining this program, I'd have to play catch up after certain meetings. But with the reinforcement and foundation the program has provided, I feel confident diving into those conversations now."
Tiffany M. Cummins '22
Supervisor
Deliver Supply Chain Solutions
At the University of Tennessee, Knoxville's Haslam College of Business, there's no shortage of opportunities for supply chain professionals. Our Master of Science in Supply Chain Management Online (MS SCM Online) offers students:
Frequently Asked Questions
With supply chain management roles, otherwise known as logistician roles, projected to grow 28 percent by 2031,3 the outlook for supply chain professionals is bright. While not every supply chain role requires a master's degree, job candidates with graduate degrees are often more prepared to assume leadership positions. The average starting salary for supply chain management master's graduates is $83,066.3
Online students at the University of Tennessee, Knoxville, earn the same degree as residential students. Led by the same expert faculty who guide our residential supply chain programs, our Master of Science in Supply Chain Management Online offers students the quality instruction, curriculum, and level of support UT Knoxville is known for. Our graduates are well prepared to take on supply chain challenges and make lifelong connections with renowned supply chain practitioners, researchers, and peers.
The graduate supply chain program in the Haslam College of Business has been ranked #1 nationally by Gartner.1 Taught by our faculty and industry leaders, the MS SCM Online will position you to advance your organization from day one in the program.
There are three intakes each year, in January, May, and August.
Yes. There are federal student loans and other need-based financial aid for graduate students at One Stop Express Student Services along with employer sponsorship opportunities and Veterans' G.I. Bill Benefits.
1Gartner, 2022
2Time to complete may vary based on the number of credits taken each semester.
3U.S. Bureau of Labor Statistics, 2021
Apply by the Priority Submit Date: June 1, 2023